To assist us with our 2017 IGAD campaign, Alistair Beveridge, has donated his artwork, "Moulin Rouge Chook".  Prints are now for sale to help with the Gynaecological and Sexual Health awareness campaigns.
Alistair is the genuine Aussie battler, very grounded, no artifice and what you see is what you get.  He's a rare breath of fresh air. We first met Alistair recently when Tony, my sister Helen, Aileen Hooper (an artist herself) and myself attended the Albany Markets.
We were attracted to Alistair's display table as people were flocking around his Chook Art display so we wanted to see what all the fuss was about. One particular picture caught my eye with a chook proudly standing there with her chest out, wearing stiletto heels and a bright red crest on the chooks head. Aileen was more than excited and suggested Alistair design a Moulin Rouge Chook for Kath's vision of the International Gynaecological Awareness Day 10 September campaign. Hence the Moulin Rouge Chook was invented.
He suffered a major illness and in 2012 he retired to a country cottage to rest and recuperate.  His constant companions were a batch of hens and he found the soft clucking cackling was very soothing but he became totally fascinated by their behaviour.
Thus was born the "Chook Man" and he's been drawing chooks at their best (and worst) ever since.
Alistair now lives in Albany Western Australia and displays his works and drawings on site at the Albany Boat Shed Markets every Sunday morning.  His drawings bring a smile to your face and if you want something a little bit special he'll happily do a drawing for you. Alistair has undertaken a special order to produce a Moulin Rouge hen for Tony and Kath Mazzella's  International Gynaecological Health Awareness campaign which is only available to purchase through "The Squeaky Clean Gallery".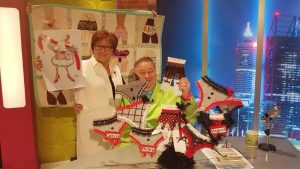 Kath was recently interviewed with Fred Mafrica on The Couch TV recently where the chook picture which created many  chuckles from the film crew and Fred himself. It is amazing the great reactions I am receiving to help break down the barriers and stigmas with Gynaecological, Sexual and Related Mental Health issues.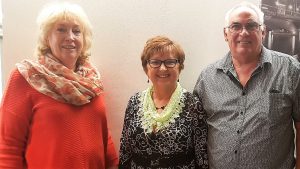 Aileen's interest in art started as a small child, when she used to spend many an hour gazing at the paintings in her Grandparents home. But, it wasn't until her early twenties that she sought lessons on oil painting and was fortunate enough to receive tutoring from 2 very talented artists, in Melbourne and Perth.
Aileen was a proliferate artist through the 70's and 80's, but stopped painting when her youngest son decided she needed some help and painted black trees across 30 odd paintings that were ready for an exhibition. He was 3 years old at the time and Aileen did not paint for a further 35 years, and has only recently taken up the craft again.
Aileen has now transitioned across to acrylics and describes this as her inner child escaping. You will understand this sentiment when you see the differences between her oil and acrylic paintings.
Aileen's paintings all have an interesting story behind them and she shares this with you.