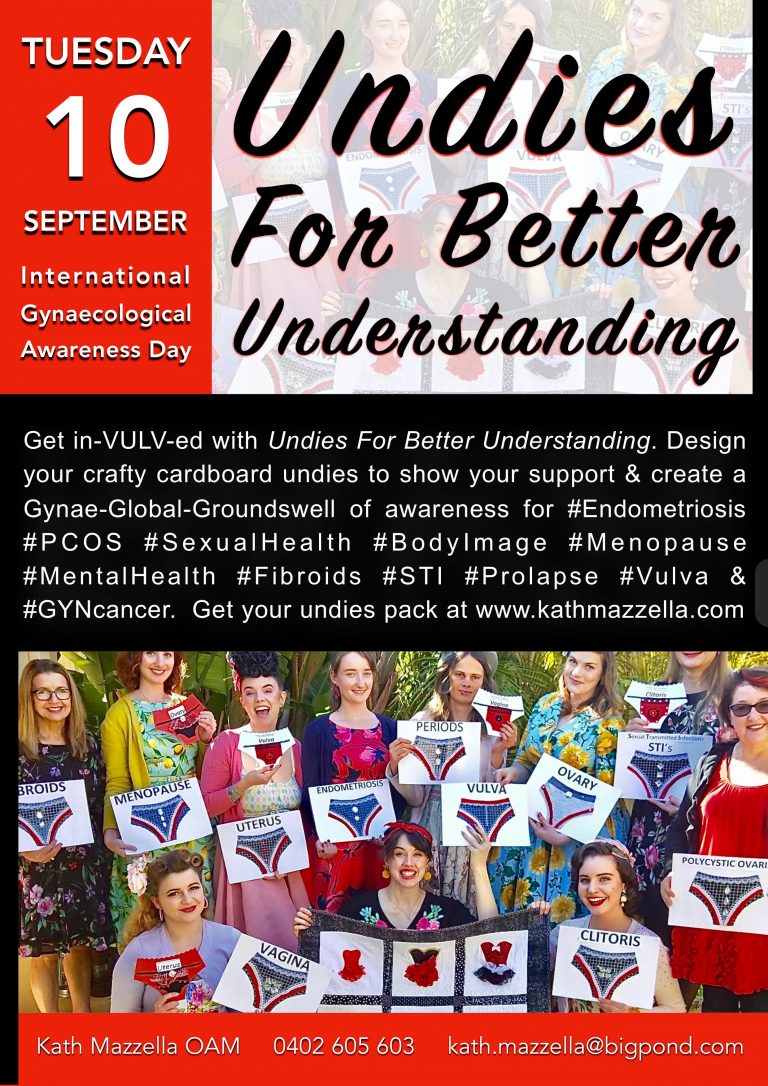 As a Gynaecological Cancer survivor and recognizing millions of women with GYN and related mental health issues, I am pleased to say the world is changing.
After 25 years of lobbying as an advocate to create a voice and conversations for global women enduring Gynaecological Health issues the time is now right to celebrate our magnificent bodies and our cycle of life.   So now I encourage you to forward this flyer far and wide to use cardboard cut out undies as a tool to promote "Undies for Better Understanding"  and create a community groundswell to give women and men greater opportunities to help save lives or life time health complications.
Celebrate the International Gynaecological Awareness Day in your corner of the globe. It's easy! All you need to do is create a cardboard cut out undies shape and decorate them. Then hang them somewhere prominent and have a conversation with people about gynaecology and related mental health issues.
The conversation could go something like this…
…Happy Gynae Day. 
…Do you like my undies?
…Where's your undies?
…You show me yours and I'll show you mine (cardboard undies of course)
You could put your undies…
– On the back of a toilet door
– On the work noticeboard
– On the kiosk wall at school
– On the university noticeboard
– On the shopping centre noticeboard
– On the table at the next meeting
– On the work fridge
– On the home fridge
– On the shop window
– On the reading table in waiting rooms
– On your car window
The list is endless.
Business owners…promote your business by obtaining some undies from Kath Mazzella and adding your business information to the back. You can hand out to customers and demonstrate your support of women all around the globe who are living with gynaecological and associated mental health challenges.
Think about it…
Every person, male or female, has a woman in their world somewhere. Guaranteed, that woman will face a gynaecological challenge of some sort at some point in their life. Show her you care by being a listening ear, showing her you have her back and stand with women in their time of need.
If you are an action person – gather people and host an event. Find out more by visiting http://www.kathmazzella.com/wp-content/uploads/2018/02/IGAD-Flier-Kit-Smallest.pdf
If you do celebrate, please take a photo of your handiwork and post it on the Undies for Better Understanding Facebook wall or email to kath.mazzella@bigpond.com and we will post them on the website.
Join our event and watch the Facebook live posts on the day.